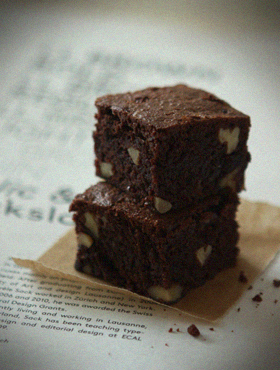 Brownies & a cup of tea, and chatting with my sister.
It's a nice Sunday afternoon.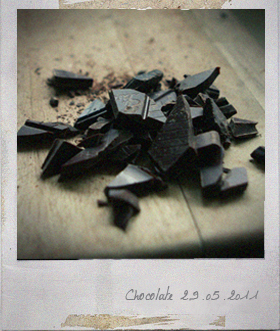 ——————————
—Walnut Brownies (10 x 8 inch square baking tin) —
150g dark chocolate (70% cocoa), chopped
150g plain flour
280g sugar
3 eggs
150g butter
100g walnuts, chopped
2 tablespoons cocoa powder
A pinch of salt
——————————
Cut the butter into small cubes and chopped the chocolate into small pieces. Melt the chocolate and butter in a bowl over a pan of hot water. Leave the melted mixture to cool to room temperature.
Place the eggs and sugar in a bowl, whisk them until thick and creamy.
Pour the chocolate mixture over the egg mixture, gently mix together.
Place the four, cocoa powder and a pinch of salt in another bowl and mix together.
Hold a sieve over the bowl of egg & chocolate mixture and sift the flour mixture, add the chopped walnuts. Gently fold until almost even mixture (do not over-mixing).
Pour the mixture into a baking tin lined with baking parchment.
Bake in a preheated 180C/360F oven for about 25 minutes. Leave to cool completely in the tin. Cut into squares to serve.