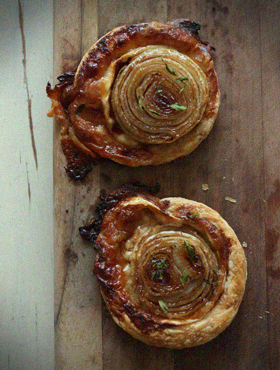 My mum always told me that onions make my brain work good.
I don't know if there is any evidence of it, or maybe she just tried to make me eat onions.
Anyway, I eat onions today.
I need to be a little bit clever this week.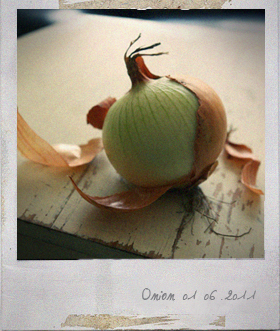 ——————————
— Caramelised Onion & Goat Cheese Tarts (4 x 4 inch tarts) —
1 onion
100g goat cheese
200g puff pastry
2 tablespoons balsamic vinegar
1 tablespoon brown sugar
1 tablespoon olive oil
Some fresh thyme leaves
——————————
Preheat oven 200C/400F.
Slice the goat cheese thickly (4 slices).
Slice the onion thickly (4 slices). Heat the olive oil in a frying pan over medium heat, place the onion slices and cook for 3-4 minutes each side until they start to soften.
Roll the puff pastry on a light floured work surface into a sheet. Cut 4 x 4 inch rounds from the pastry and place on a baking try lined with baking paper.
Place the goat cheese slice on the middle of pastry and put the fried onion on top.
Mix the balsamic vinegar and brown sugar in a bowl and drizzle over the onion slices. Sprinkle the fresh thyme leaves.
Bake for 20-30 minutes until puffed and golden brown.