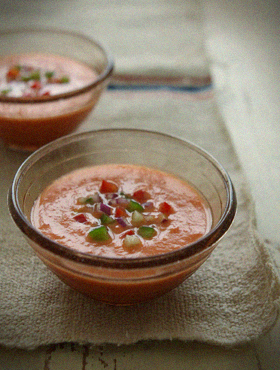 A massive hangover… I need to get rid of this headache from hell.
Gazpacho to the rescue!
This is the greatest natural remedy for hangover.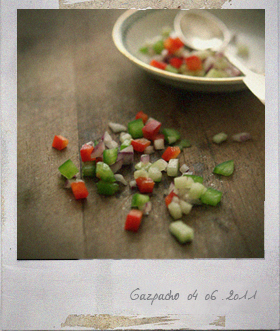 ——————————
— Gazpacho (serves 2) —
5 tomatoes, chopped
1/2 cucumber, peeled and deseeded
1 red pepper, seeded and chopped
1 clove garlic, peeled and crushed
1/2 small green chili, chopped (optional)
1 slice of white bread, crust removed
2 tablespoons extra virgin olive oil
1 tablespoon wine vinegar
A pinch of salt
*****
— for the garnish —
Red onions, finely chopped
Cucumbers, finely chopped
Red pepper, finely chopped
Green pepper, finely chopped
——————————
Soak the bread in cold water for 5 minutes, squeeze out the water.
Place the bread, tomatoes, cucumber, red pepper, garlic and chili in a blender and process until combined and smooth.
Add the olive oil and wine vinegar, season with a pinch of salt and mix everything.
Refrigerate until cold.
Serve with the finely chopped vegetables.