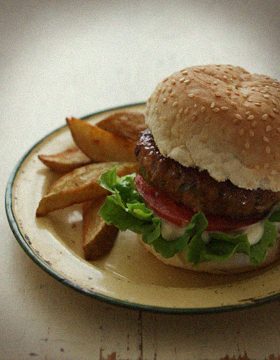 "Chicken Teriyaki Burger" is a popular fast-food menu in Japan.
It might be a good idea to sell it in the UK… I was thinking that while I was eating this chicken burger.
Suddenly started pouring down rain. And, the bird window ornament looks like crying. I felt a little bit guilty.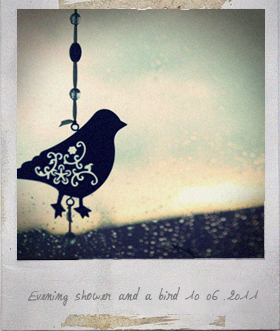 ——————————
— Chicken Teriyaki Burger (serves 2) —
250g chicken mince meat
30g (about 2 stems) spring onion, finely chopped
1/2 egg, beaten
1/2 teaspoon ginger, grated
1/2 tablespoon corn flour
1/2 soya sauce
1/2 sake rice wine
A pinch of salt and pepper
Some vegetable oil (for frying)
2 burger buns
Some lettuce
Some tomato
Some mayonnaise
*****
— for Teriyaki sauce —
3 tablespoons soya sauce
1 & 1/2 honey
2 tablespoons sake rice wine
——————————
Place the chicken mince and a pinch of salt and pepper in a bowl, mix thoroughly by hand until quite sticky.
Add the finely chopped spring onion, beaten egg, grated ginger, corn flour, soya sauce and sake in the bowl and mix everything well.
Divided the mixture into 2 and shape them into flattened rounds. Make shallow hollow in the centre of each.
Put some oil into a heated frying-pan, fry on both sides of the hamburgers over medium heat until golden brown and cooked. Transfer the hamburgers to a plate.
Discard the oil from the frying-pan, turn down the heat to low, add all the Teriyaki sauce ingredients and cook for about 2 minutes until the sauce being to bubble. Bring back the hamburgers into the frying-pan and toss well with the Teriyaki sauce.
Serve the burgers in toasted buns with lettuce, tomato and mayonnaise.