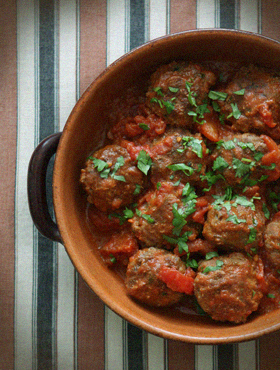 Spice up summer, beat the heat!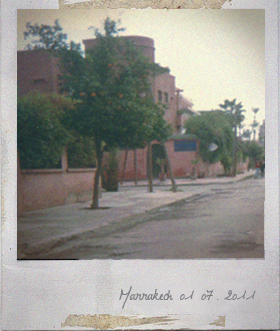 ——————————
— Moroccan Meatballs (serves 2, about 16 meatballs) —
300g lean minced lamb
1/2 onion, grated
1 clove garlic, grated
1/2 tablespoon ground cumin
1/2 tablespoon ground paprika
1/2 teaspoon ground cinnamon
20g coriander leaves, chopped
Vegetable oil for frying
Some coriander leaves for garnish
*****
— for tomato sauce —
1 tin (400g) plum tomato
1 clove garlic, grated
1/2 tablespoon cumin powder
1/2 tablespoon paprika powder
5g chicken stock powder
——————————
Place the minced lamb, grated onion, grated garlic, cumin, paprika, cinnamon in a bowl and knead with your hands until well mixed. Add the chopped coriander in the bowl and mix together.
Roll the meat mixture into smallish meatballs.
Heat the oil in a frying pan, fry the meatballs over medium heat for 10 minutes, turning occasionally. Remove the cooked meatballs from the frying pan and set aside.
Add all the tomato sauce ingredients in the frying-pan, then bring to the boil.
Turn down the heat to low and return the meatballs to the pan and simmer with the tomato sauce for about 20 minutes until the sauce is thickened.
Garnish with chopped coriander leaves.