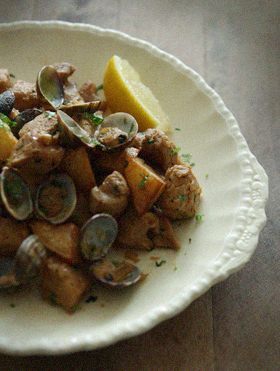 This is a beautiful Alentejo (south Portugal) dish.
My portuguese friend made this dish for the Christmas party a few years ago. I was quite surprised when I saw it, because the combination of pork and clams was so unusual for me, and I couldn't really imagine what does it taste like (I thought maybe my friend just put everything what he has in the fridge…).
The taste was amazing. Pork and clams work very well together, rich and flavouful taste.
I'm a big fan of this dish since then.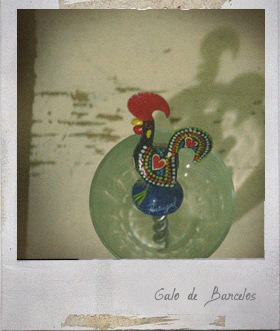 ——————————
— Pork and Clams Alentejo Style (serves 4) —
700g pork loin
20-30 clams, scrubbed
1 onion, finely chopped
1 clove garlic, finely chopped
2 tablespoons coriander leaves, chopped
3 potatoes
1 lemon
4 tablespoon olive oil
A pinch of salt and black pepper
Vegetable oil for deep-frying
*****
— for wine marinade —
200ml white wine
3 cloves garlic, minced
1 tablespoon paprika
1 bay leaf
1/2 teaspoon salt
1/8 teaspoon black pepper
——————————

Cut the pork into 1 inch cubes.
Mix all the marinade ingredient in a bowl, add the pork cubes and mix. Cover and let it marinate in the fridge for at least 4 hours or over night.
Cut the potatoes into 1 inch cubes and deep fry until golden brown. Set aside.
Heat 2 tablespoons of olive oil in a heavy pot, stir-fry the chopped onion and garlic over medium heat until tender. Add the clams, a pinch of salt and pepper. Cover the pot and cook until the clams open for about 5 minutes.
Drain the pork cubes (reserve the marinade). Heat 2 tablespoons of olive oil in a fry-ng pan. Stir-fry the drained pork cubes over medium heat until golden brown. Add the reserved marinade, bring to a boil and simmer for 5 minutes.
Transfer the cooked pork into the clam pot, mix everything together, stir and simmer for 5 minutes. Add the deep fried potato cubes and the chopped coriander.
Serve with lemon wedges.