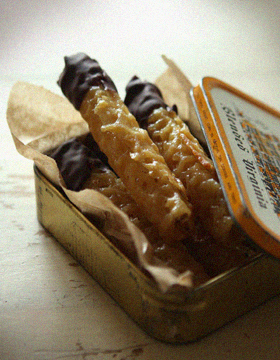 Sweet cigars for me.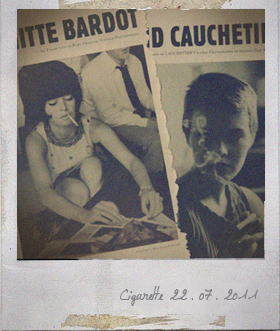 ——————————
— Brandy Snap Cigars (makes 20) —
100g butter
100g granulated sugar
2 tablespoons golden syrup
2 tablespoons honey
100g plain flour
A pinch of salt
3 tablespoons ground ginger
2 tablespoons lemon juice
1 tablespoon brandy
50g dark chocolate
——————————
Preheat oven to 340F.
Put the butter, granulated sugar, golden syrup and honey in a pan and heat gently until the butter is melted and the sugar is dissolved.
Remove from the heat and stir in the flour, salt , ground ginger, lemon juice and brandy and mix well.
Drop small spoonfuls of the mixture onto the baking sheet, spaced well apart each one as they will spread out.
Bake for about 8 minutes until golden. Remove from the oven and leave to cool for a minutes before rolling.
Roll them carefully around the handle of the wooden spoon and leave on a rack to cool.
Melt the dark chocolate in a small cup and dip the brandy snaps, leave them on a baking sheet until they are set.
Store in an airtight container.