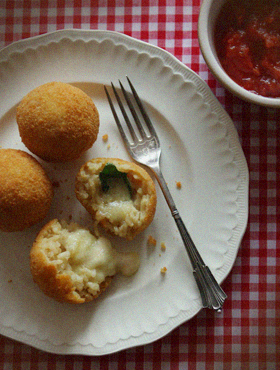 Risotto balls with melted mozzarella cheese and fresh basil filling. Yum.
No wonder why this snack is Italian's favourite.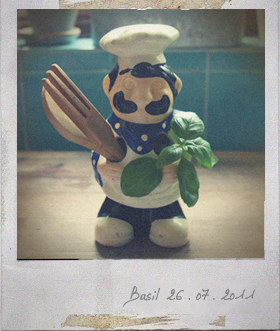 ——————————
— Arancini (makes 10) —
1&1/2 tablespoon butter
1/3 onion, finely chopped
200g arborio rice
700ml chicken or vegetable stock
3 tablespoons grated parmesan cheese
A pinch of black pepper
80g mozzarella cheese
2 eggs, beaten
5 basil leaves, torn in half
100g dried breadcrumbs
Oil for deep-flying
——————————
Melt the butter in a heavy pan, add the finely chopped onion and sauté over low heat about 3 minutes until softened.
Add the rice and stir for 1 minutes to seal the rice.
Add the stock little by little, stirring frequently for about 20 minutes over medium-low heat until the rice is al dente.
Remove from the heat, stir in the parmesan cheese and the half amount of beaten egg. Season with the black pepper. Leave to cool completely.
Cut the mozzarella cheese into 10 cubes.
Divide the rice into 10 portions, take one portion in your hand , press the basil leaf and a cube of mozzarella cheese into middle. Shape the rice ball into a ball.
Roll the rice balls in beaten egg, then bread crumbs. Set aside.
Heat the deep-flying oil to 350F. Deep-fly the rice balls until evenly golden brown.
Serve hot with tomato sauce.
§ One Response to Arancini