Sweet and sour mango salsa. A little bit of cilli gives it a nice kick.
The white fish dressed up in a lovely yellow coloured summer dress today.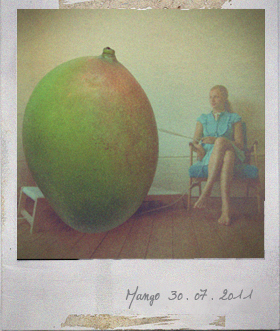 ——————————
— Fried Cod with Mango Salsa (serves 2) —
2 cod fillets
Some salt and pepper
Some plain flour
2 tablespoons butter
*****
— for mango salsa —
1 medium ripe mango, peeled and diced
2 tablespoons red onion, finely chopped
2 tablespoons coriander leave, finely chopped
1/2 small red cilli, very finely chopped
1 tablespoon fresh lime juice
A pinch of salt and pepper
——————————
Mix all the mango salsa ingredients in a bowl. Set aside.
Sprinkle the cod fillets with salt and pepper. Lightly dust each side with flour.
Heat the butter in a frying-pan, sauté the cod fillets over medium heat on each side until cooked and golden.
Transfer to serving plates and pour the mango salsa over the cod fillets.