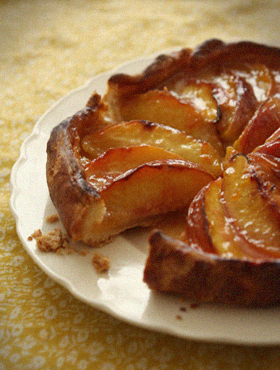 Nectarine is in season and so delicious right now.
This is a cute rustic nectarine tart, very easy to make!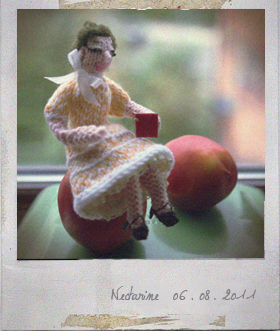 ——————————
— Nectarine Tart (7 inch round)—
100g apricot jam
50g unsalted butter
3 tablespoons sugar
2 tablespoons lemon juice
300g shortcrust pastry
3 tablespoons ground almond
3 large nectarines (550g)
1 tablespoon melted butter (for brush)
——————————
Preheat the oven to 400F.
Place the apricot jam, butter, sugar and lemon juice in a small saucepan, melt together over medium heat, stirring occasionally. Set aside.
Roll out the pastry on a lightly floured work surface board into a round about 8 inch diameter.
Place pastry round on a baking sheet. Sprinkle the ground almond evenly over the pastry, leaving 1.2 inch border.
Cut the nectarines (no need to peel), arrange the nectarine in ring on the pastry, leaving 1.2 inch rim around the outside. Roll the rim up around the nectarine.
Brash the rim with melted butter. Drizzle the apricot jam mixture on the nectarine evenly.
Bake for about 40 minutes, until the crust is golden brown.
§ One Response to Nectarine Tart