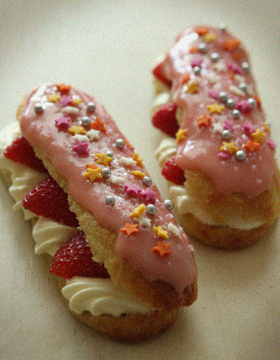 I just needed to make something sweet & cute today.
A lot of terrible and sad things have happened in England the last few days… Enough.
Pink glitter eclairs. It makes me smile.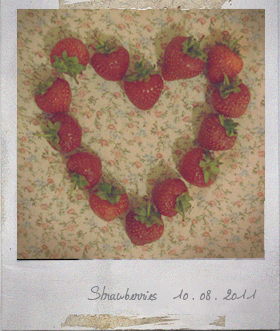 ——————————
— Strawberry Eclairs (about 16)—
110g plain flour
85g butter
3 eggs (medium size)
A pinch of salt
200ml water
20-30 strawberries, hulled and halved 
*****
— for custard cream filling—
2 egg yolks
75g granulated sugar
200cc milk
1 tablespoon plain flour
1 tablespoon corn flour
1 tablespoon unsalted butter
A few drops of vanilla extract
*****
— for whipping cream filling—
200ml Double cream
2 tablespoons granuted sugar
*****
— for topping —
100g white chocolate, finely chopped
A few drops of pink food colouring
A few drops of strawberry flavour extract
——————————
Preheat the oven to 400F/200C.
Put the butter, salt and water in a pan, stirring constantly until butter is melted. Increase heat and bring the butter mixture to the boil.
Reduce the heat, add the flour in the pan at once and stirring constantly with a wooden spoon until the mixture forms a stiff ball for about 3 minutes.
Remove from the heat, add the eggs one at a time, beating well after each addition.
Fill a pastry bag with the mixture, pipe out lines of the mixture about 10cm long fingers on a baking sheet.
Bake in the oven for 20 minutes, then reduce the heat temperature to 325F/160C and bake for a further 15 minutes. Transfer the eclairs to a wire rack, leave them to cool completely.
Slice the eclair horizontally in half with a serrated knife, fill the bottom of eclair with custard cream and then the whipping cream, arrange a few strawberries on top, sandwich together with the eclair lid spread the melted pink chocolate on top of the eclair lid and decorate as you like.
*****
To make custard cream: Sift the flour and corn flour together, set aside. Heat the milk and a few drops of vanilla extract in a small sauce pan until warm. Place the yolks and sugar in a bowl and beat them until white, add the sifted flour mixture, mix well. Add the warm milk in the bowl and stir to combine well. Transfer the custard mixture in a pan,  Heat the custard over low heat and stir constantly until thickened. Remove form the heat and add the melted butter and mix well. Leave to cool completely.
To make whipping cream: Place the double cream and sugar, whip until peak form.
To make pink icing: Melt the white chocolate in a bowl over a pan of hot water, turn offo the heat and add a few drops of pink food colouring and strawberry flavour extract, stir to combine.
§ 3 Responses to Strawberry Eclairs"