Spicy food addiction!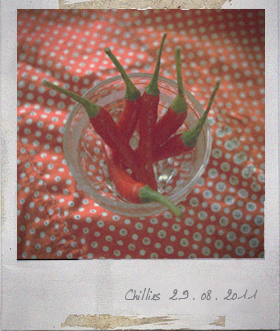 ——————————
— Peri Peri Prawns (serves 2) —
12-16 large raw prawns
2 small red chillies (jalapeño) , very finely chopped
5 tablespoons fresh lemon juice
3 tablespoons olive oil
1 tablespoon ground paprika
2 garlic cloves, minced
1/4 teaspoon salt
Some flat leaf parsley for garnish
——————————
Peel and de-vein the prawns.
Place the chillies, lemon juice, olive oil, ground paprika, minced garlic and salt in a bowl, mix well.
Add the prawns in the peri-peri sauce and coat well. Leave to marinate for an hour.
Heat a flying-pan, add a little olive oil and fry the prawns about 30 seconds on each side.
Garnish with chopped parsley.