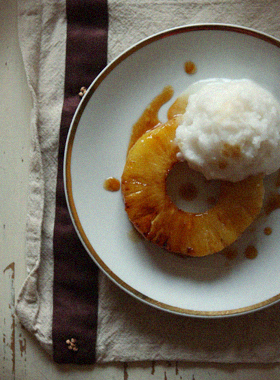 I don't like hot weather, I can't swim, I hate mosquitos.
But, still I feel a bit sad at times when the summer is coming to an end.
This tropical summerly dessert is the last stand against Autumn.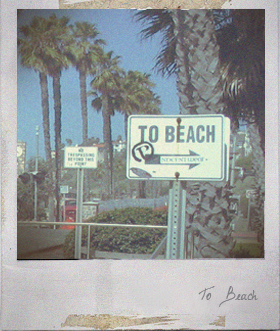 ——————————
— Sautéed Pineapple with Coconut Sorbet (serves 6) —
— for coconut sorbet —
170g sugar
150ml coconut milk
50g grated or desiccated coconut
1/2 lime, squeezed
*****
— for sautéed pineapple —
1 medium pineapple, peeled and cored
3 tablespoons butter
30g brown sugar
3 tablespoons dark rum
——————————
— to make coconut sorbet —
Place the sugar and 200ml water in a pan. Bring to the boil, simmer for 5 minutes over low heat, stirring constantly until the sugar has dissolved completely.
Remove from the heat and stir in the coconut milk, squeezed lime juice and grated coconut. Transfer the mixture into a freezer container and freeze for 1 hours.
Take the sorbet out from the freezer and beat it until smooth and creamy. Return to the freezer and continue to freeze until the sorbet is frozen.
*****
— to make sautéed pineapple —
Cut the pineapple crosswise into six 3/4 inch-thick slices.
Melt the butter in a frying-pan over medium heat. Sauté the pineapple, 1 minute each side. Sprinkle the brown sugar over the pineapple, turning over occasionally and cook until golden. Pour the rum and cook for about one more minute.
Transfer the sautéed pineapples to plates and serve with the coconut sorbet.