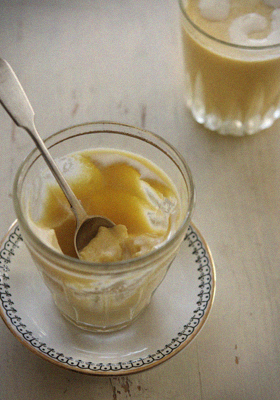 Mango has a beautiful cheerful colour and a scent.
I bought it and made this mango pudding to cheer me up.
Used soya beans milk for extra full of beans.
This pudding texture is silky rich, and it has simply wonderful mango flavour.
It also a non-daily dessert and suit vegetarian.
When I've finished a cup, I became cheerful like a mango.
——————————
— Chilled Mango Soya Milk Pudding (5 cups)—
2 medium to large ripe mangoes
100ml soya milk
50ml soya single cream
50g sugar
3 gelatine leaves (or agar agar for a vegetarian)
Some soya single cream for drizzle on top
——————————
Soak the gelatine leaves in a water until soft.
Peel and stone the mangoes and cut into small cubes. Place the mango in a blender and make a smooth mango purée.
Place the soya milk, 50ml of soya cream and sugar in a pan and slowly bring to the boil over medium heat, stirring occasionally until the sugar has dissolved, then remove from the heat.
Squeeze the water out of the gelatine leaves, add to the pan and stir until the gelatine has dissolved.
Add the mango purée into the pan and mix well.
Pour the mixture into small cups. Cool and then chill in the fridge for couple of hours until set.
Drizzle some soya single cream on top and serve.