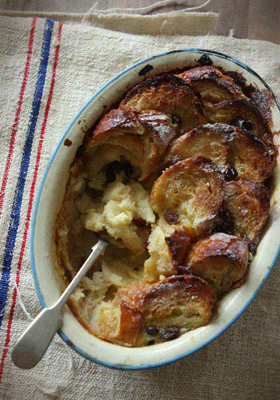 The smell of something good baking in my oven. It makes me happy.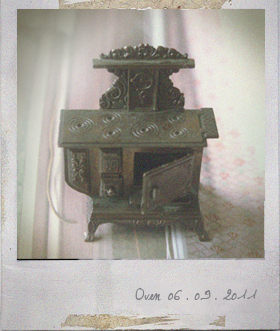 ——————————
— Baguette Bread Pudding (serves 4-6) —
1 x 20 inch long baguette
60g butter, softened
30g sultanas or raisins
2 eggs
50g sugar
300ml milk
200ml single cream
3 tablespoons honey
Some icing sugar
——————————
Preheat oven to 350F/180C.
Cut the baguette diagonally into 2/3 inch thick slice. Spread the butter over one side of each slice.
Arrange the baguette slices (buttered side up) in a baking dish and sprinkle with the sultanas or raisins.
Beat the eggs, sugar, milk and single cream in a bowl. Pour the mixture over bread slices in dish, gently press the baguette slices into the mixture to soak.
Bake for about 45 minutes.
Drizzle the honey over the top, and dust with icing sugar.