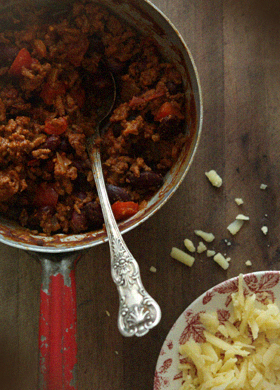 I always remember the French film 'Betty Blue' when I eat chilli can carne.
This is Betty and Zorg's (main characters) favourite dish, and it perfectly fits the atmosphere of the film. Deep red colour, Spicy taste and hot temperature.
Betty looks so attractive and sexy when she was eating the chilli con carne straight from a pot in her hand with a large spoon, and this scene made me want to become a woman like Betty (unfortunately, I became a totally different type…).
I made a pot full of chilli con carne today, and tried to eat it like Betty, but it was too hot and I got burned.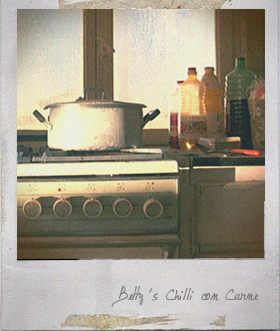 ——————————
— Chilli con Carne (serves 4) —
1 onion
1 red pepper
1 tablespoon olive oil
2 cloves garlic, minced
1 tablespoon ground paprika
1/2 tablespoon cumin powder
1 tablespoon dried chilli flakes
400g beef mince
200ml red wine
1 tin (400g) chopped tomatoes
3 tablespoons tomato purée
1 tablespoon Worcestershire sauce
1 cinnamon stick
1 bay leaf
1 beef stock cube
1 tin  (400g) red kidney beans, drained
Salt and black pepper
*****
Grated cheese, sour cream, boiled rice, to serve
——————————
Finely chop the onion, cut the red pepper into small dice.
Heat the olive oil in saucepan (with a lid), add the chopped onion and stir-fry over medium heat until softened. Add the chopped red pepper, minced garlic, paprika, cumin and chilli flakes, stir-fry for about 3 minutes.
Brown the mince in a separate pan. Add the cooked mince to the onion mixture and mix well. Pour in the red wine and boil for 2-3 minutes.
Add the tinned tomatoes, tomato purée, Worcestershire sauce, cinnamon stick, bay leaf and crumble in the beef stock cube. Bring to the boil, turn down the heat to low, cover with a lid and simmer for about 40-50 minutes, stirring occasionally until the mixture is thickened.
Add the kidney beans and cook for further 10 minutes. Season with salt and pepper if necessary.
Serve with boiled rice, grated cheese and sour cream.
§ 2 Responses to Chilli con Carne"