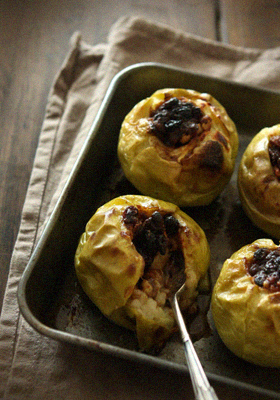 If I choose a boyfriend from the fruit kingdom, I'll choose Mr. Apple.
Mr. Lemon is too fresh,
Mr. Banana is too soft.
Mr. Pineapple seems a little too frisky,
Mr. Kiwi is too hairy.
But, Mr. Apple, he is solid, sweet and sharp, very reliable.
Today's dessert is baked apples. it makes me feel warm and cozy.
I made the right decision choosing Mr. Apple.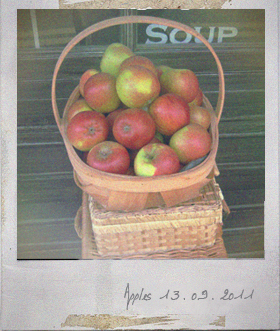 ——————————
— Baked Apples (serves 4) —
4 cooking apples, such as Bramleys
40g walnuts, chopped
50g raisin
1 tablespoon butter, softened
50g brown sugar
1 teaspoon cinnamon powder
30g butter, melted
—————————— 
Preheat the oven to 360F/180C.
Wash the apples, remove the cores to 1/2 inch of the bottom.
Combine the chopped walnuts, raisin, 1 tablespoon of butter, brown sugar and cinnamon powder in a bowl and mix well. Stuff the mixture into the apples.
Place the apples in a roasting try, brush the top of apples with melted butter. Pour a few inches of hot water into the tray and bake for 40-50 minutes until the apples are very tender.