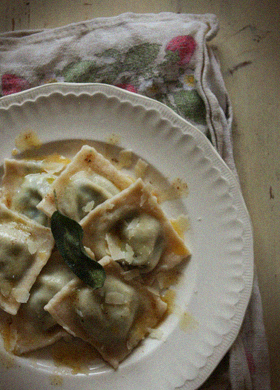 I got drunk and passed out on the couch last night.
I was waken up by Mika (my cat, 5 month-old boy) pawing my face in the late morning.
I still feel groggy, but started to make ravioli. Because I don't want Mika to think I'm lazy.
This ravioli is simple comfort food, and I'm sure the spinach does cure this hang over and I'll be really strong like Popeye soon.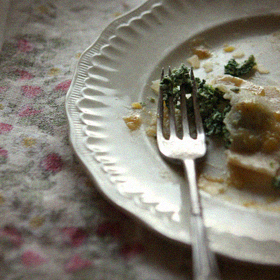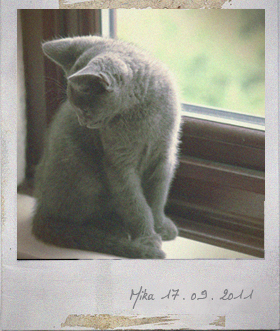 ——————————
— Spinach & Ricotta Ravioli (Serves 2) —
100g plain flour, plus extra for flouring
1 egg, beaten
1 tablespoon olive oil
A pinch of salt
1 beaten egg for brushing
Some parmesan cheese for garnish
*****
— for the filling —
120g spinach
100g ricotta cheese
2 tablespoons grated parmesan cheese
1 tablespoon double cream
A pinch of grated nutmeg
A pinch of salt and pepper
*****
— for the sage butter sauce —
30g butter
4 sage leaves
——————————
Place the flour, salt, beaten egg and olive oil in a bowl and mix well. Knead the dough about for 5 minutes until it's smooth and shiny. Form into a ball, wrap in cling film and place into the fridge to rest for 30 minutes.
Cook the spinach in a pot of salted boiling water until tender. Drain the spinach, squeeze out the water and chop finely.
Place the spinach, ricotta cheese, parmesan cheese, double cream and nutmeg, and mix together. Season with salt and pepper.
Roll out the dough as thinly as possible on a floured board.
Cut the pasta sheet in half, place teaspoonful of the filling on to a pasta sheet, keeping a small bit of distance between each dollop.
Brush the beaten egg between the fillings. Place the other sheet of pasta on top and press down around the filling to seal it.
Cut around the filling with a cutter or knife to make raviolis.
Place the ravioli into a large pan of boiling salted water and cook for about 2-3 minutes until al dente.
To make the sauce, melt the butter in a frying pan. Add the sage leaves and cook for 1-2 minutes over medium heat.
Transfer cooked ravioli on serving plates, sprinkle with the sage butter sauce, garnish with shaved or grated parmesan cheese.