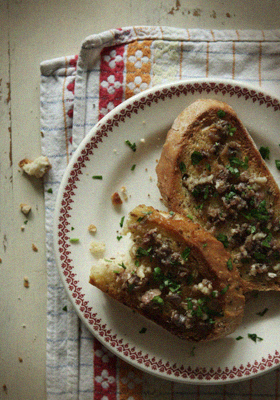 YES. I LOVE DEPTFORD.
——————————
— Anchovy & Garlic Toasts (8 slices) —
8 slices rustic bread
8 anchovy fillets in olive oil, drained
2 cloves garlic, minced
1/2 teaspoon white wine vinegar
50ml extra virgin olive oil
Some flat leaf parsley, finely chopped
——————————
Mince the anchovy fillets.
Place the anchovy, minced garlic, white wine vinegar and olive oil in a bowl, mix well to combine.
Lightly toast both side of the bread.
Spread the anchovy mixture over one side of each bread.
Place the bread slices (spread side up) on a baking sheet and toast under broiler for 1-2 minute.
Sprinkle with the finely chopped parsley.