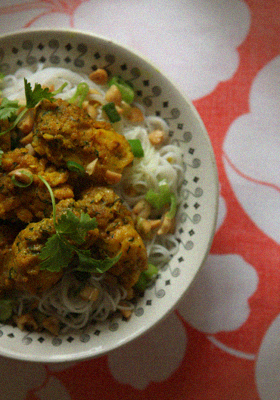 I was impressed by the beauty of Vietnamese women when I visited Vietnam.
They don't deck out in expensive outfits or heavy makeup, they just really have amazing natural beauty. I think the beauty is coming from their inner strength.
They are honest and hardworking, always smily.
Also, Vietnamese food is my favourite. If I were to be born again and be a man, I would love to marry a Vietnamese woman :)
——————————
— Vietnamese Style Turmeric & Dill Fish with Rice Noodles (serves 2) —
500g white fish fillets
2 tablespoons salted peanuts, roughly chopped
30g spring onion, chopped
Some oil for stir-frying
2 portions of thin rice noodles (vermicelli)
Some coriander leaves for garnish
*****
— for turmeric marinade —
2 tablespoons Vietnamese fish sauce
1 tablespoon  turmeric powder
1 teaspoon sugar
1 tablespoon plain yogurt
1 tablespoon vegetable oil
1/2 tablespoon ginger, finely chopped
1 tablespoon shallot, finely chopped
2 cloves garlic, finely chopped
2 tablespoons dill, finely chopped (without stems)
——————————
Cut the white fish into 2 inch pieces.
Mix all the marinade ingredients in a bowl, add the fish and coat well. Cover the bowl with cling film and refrigerate for about 2 hours.
Cooke the thin rice noodles in a large pot of boiling water until cooked (follow the package directions). Drain and rinse well under cold water, and drain well again. Set aside
Heat some oil in a frying-pan, add the chopped peanuts and chopped spring onion and stir-fry for 1-2 minutes. Set aside.
Remove the fish pieces from marinade, remove the excess marinade.
Cook the fish under a preheated grill for about 3 minutes each side, or until cooked through.
Place a potion of rice noodles into a bowl, sprinkle with the sautéed peanuts and spring onion, top with a portion of fish and garnish with some coriander leaves.