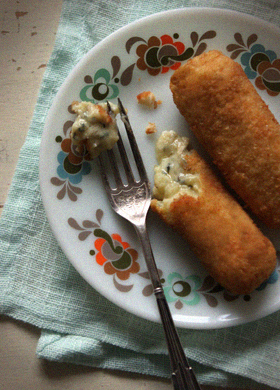 What I like about Holland most is "FEBO" (fast-food vending machine). Open the drawer and there is a warm croquet anytime!  :)
I and my friend are very excited when we find it (well, we were a bit drunk…), and decided to eat all kind of FEBO croquettes while we are in Amsterdam.
Hanging around the town and eat FEBO, drink beers and get FEBO, give up the sightseeing and try to find FEBO… All I remember about Amsterdam is FEBO.
This blue cheese croquettes is not the FEBO style croquette, but I always remember the amazing vending machine "FEBO" when I make croqueetes.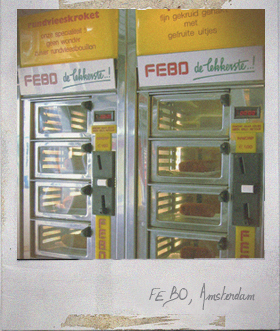 ——————————
— Blue Cheese Croquettes (10 croquettes) —
400g potatoes
1 tablespoon butter, melted
100ml milk
Salt and black pepper
80g blue cheese, crushed into small pieces
1 egg, beaten
140g plain flour
160g breadcrumbs
Oil for deep-flying
——————————
Boil the potatoes with skin on until tender. Drain and let them cool down.
Peel the potatoes and place in a bowl and and mash. Add the butter, milk, and salt and pepper to taste. Mix them until evenly combined.
Add the crushed blue cheese in the potato mixture and mix gently.
Divide the mixture into 10 and form into chunky log shapes. Put them on a tray and refrigerate for about an hour.
Heat the deep-frying oil to 350F/180C.
Roll the croquettes in the flour first, then beaten egg and then the breadcrumbs.
Deer-fry the croquettes until golden brown all over.
§ 2 Responses to Blue Cheese Croquettes"