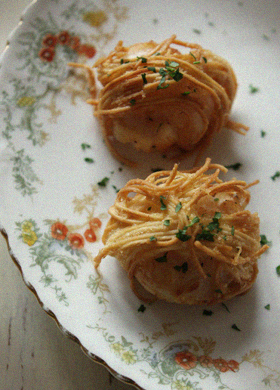 The weather is getting cold. Scallops need scarves.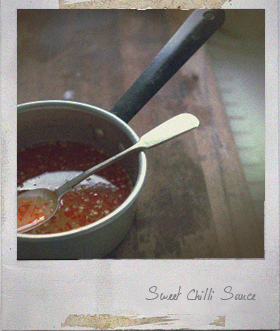 ——————————
— Crispy Noodle Wrapped Scallops (6 fried scallops) —
6 scallops
50g cooked thin egg noodles
1 egg york
Salt and pepper
Oil for deep-frying
Some parsley leaves, finely chopped
*****
— for the Sweet Chille Dipping Sauce —
4 tablespoons sugar
6 tablespoons rice vinegar
A pinch of salt
1 small red chilli, finely chopped
——————————
To make the sweet chilli sauce, Place all the sauce ingredients in a small saucepan, heat gently and stirring until the sugar dissolves. Set aside.
Beat the egg york in a shallow plate, mix with the cooked noodles.
Season the scallops with salt and pepper, wrap some noodles around them.
Heat the deep-frying oil to 320F/160C. Deep-fry the scallops until the noodles became just golden brown. Drain on kitchen paper.
Sprinkle with the chopped parsley. Serve the sweet chilli sauce in a dipping bowl on the side.