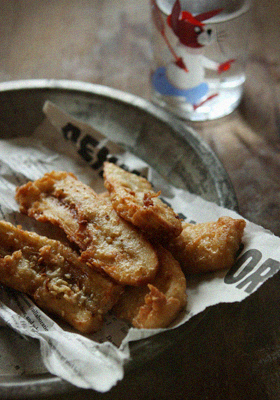 I had a bad news today and I felt blue.
But, sometimes you realise some very important things when you are having a problem.
I had a nice coffee,
I heard a very funny Santa Claus story (maybe he does exist),
walked in the refreshing clean & crisp autumn air,
I've got some lovely sweets.
I'm fine now. A big hug.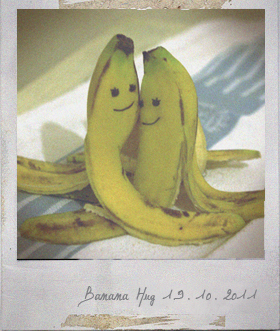 ——————————
— Thai Banana Fritters —
3-4 unripe bananas
40g rice flour
30g plain flour
1 teaspoon baking powder
40g sugar
A pinch of salt
2 tablespoons sesame seeds
200ml coconut milk
Oil for deep-frying
——————————
Sift the rice flour, plain flour and baking powder together in a bowl.
Add the sugar, salt, sesame seeds and coconut milk into the bowl and mix everything well.
Cut the banana half, and slice lengthwise into 4 slices.
Heat deep-frying oil.
Dip the banana slices in the batter, fry until golden and crispy. Drain excess oil on kitchen paper.