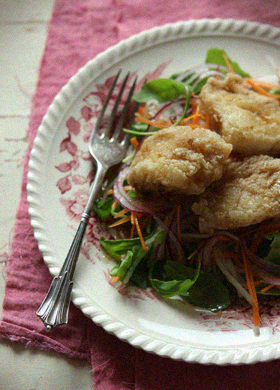 This crispy deep-fried cod warm salad has the perfect combination of flavour and texture.
Also the refreshing soy sauce dressing adds brightness to the dish.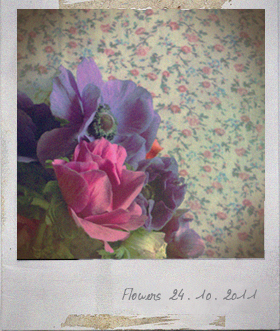 ——————————
— Fried Fish Salad with Soy Sauce Dressing (serves 2)—
200g cod fillets
3 tablespoons corn flour
Salt and pepper
Oil for deep-frying
100g mooli (daikon) radish
1 carrot
1/4 red onion
40g wild rocket
*****
— for Soy Sauce Dressing —
3 tablespoons light soy sauce
3 tablespoons virgin olive oil
3 tablespoons rice vinegar
1 tablespoon fresh lemon juice
1 teaspoon honey
——————————
To make the dressing: combine all the dressing ingredients in a bowl. Set aside.
Julienne the mooli and carrot. Slice the red onion very thinly.
Cut the cod fillets into bite sized pieces, season with salt and pepper. Coat them with the corn flour.
Heat the deep-fried oil to 350F/180C, and deep fry the cod until light golden and crispy. Drain on kitchen paper.
Place the rocket, mooli, carrot and red onion on a plate, arrange the deep-fried cod on the top and pour the dressing over the cod and salad.