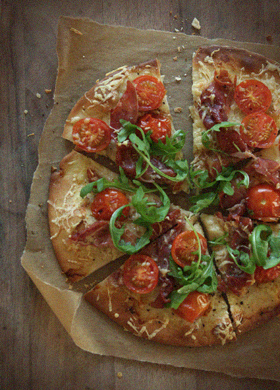 Kitchen.
I've been busy for a couple of weeks and didn't have enough time to be in the kitchen.
I decided to make a homemade pizza this afternoon, in my kitchen.
Knead the dough, cut the tomatoes and bake it in the oven.
Relaxing and soothing.
Kitchen is my favourite place.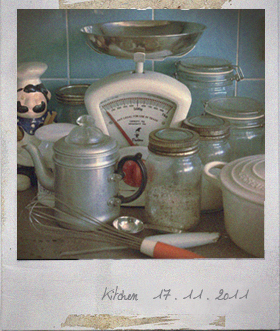 ——————————
— Prosciutto & Rocket Pizza (2 x 10 inch round pizzas) —
— ingredients for pizza dough —
200g plain flour
1/2 tablespoon dry yeast
1/2 teaspoon sugar
1/2 teaspoon salt
1/2 tablespoon olive oil
*****
— ingredients for the topping —
2 tablespoons olive oil
2 cloves garlic, minced
10 slices prosciutto
200g cherry tomatoes, halves
100g grated mozzarella cheese
60g wild rocket leaves
2 tablespoons Balsamic vinegar
——————————
Place the dry yeast and sugar in a bowl, mix in 120ml lukewarm water. Set aside in a warm place for 5 minutes, until bubbles appear on the surface.
Place the flour, salt and olive oil in a different bowl, add the yeast mixture and mix together.
Transfer the dough to a floured surface board and knead for about 5 minutes.
Make the dough into a ball, place on a floured tray under a clean, dump cloth and set aside in a warm place for 40 minutes.
To make the garlic oil, place the minced garlic and olive oil in a small bowl and mix until well combined.
Divide the pizza dough into 2 balls and roll out on a floured surface board to 10 inch rounds.
Brush the baking tray with olive oil and lay the round bases on the tray.
Spread the garlic oil and top with grated mozzarella, tomatoes and prosciutto.
Bake in a preheated 220C/425F oven for about 15-20 minutes until topping is golden and the base is crispy.
Top the pizza with the wild rocket leaves and spoon over the Balsamic vinegar to serve.