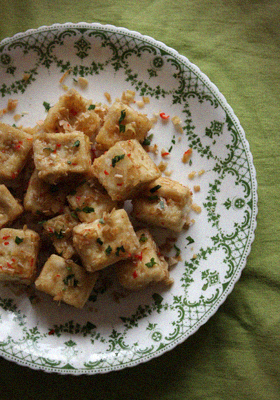 I love this Vietnamese style tofu dish.
The crispy cubes of tofu are simply seasoned by lemongrass, a pinch of chilli and salt. Very simple dish but it has a beautiful flavor and aroma.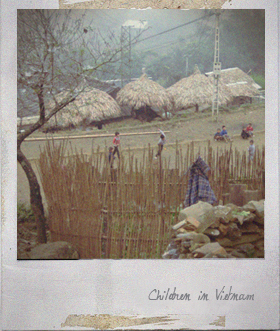 ——————————
— Spicy Lemongrass Tofu (serves 2) —
400g firm tofu, drained
3 tablespoons corn flour
Oil for deep frying
1 tablespoon vegetable oil for stir-frying
2 stalks fresh lemongrass, tender part only, very finely chopped
1 small chilli, very finely chopped
A pinch of salt
some coriander lives, finely chopped
——————————
Cut the tofu into 1 inch cubes and pat dry with kitchen papers and lightly coat them with the corn flour.
Heat the oil to 340F/170C and deep fry the tofu until light golden, place them on kitchen paper to remove excess oil.
Heat the 1 tablespoon of vegetable oil in a large frying-pan, add the lemon grass and chilli, stir-fry for 2 minutes over medium heat.
Add the deep-fried tofu and season with the salt, stir-fry everything together for 2 minutes.
Turn off the heat, sprinkle with the chopped coriander leaves.