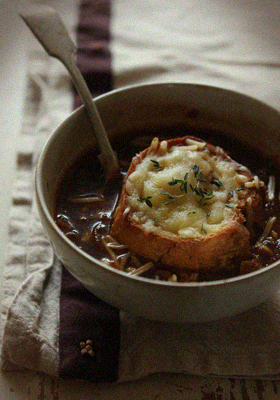 I just thought, "maybe there is some nice buildings or pretty trees if I turn right on the street" when I was going back home from the local super market today.
Then I got lost in own neighborhood for 2 hours. Ah, I remember, I have a terrible sense of direction…
I heard that onions are a popular folk medicine to help in boosting memory. So, I had a big bowl of onion soup today for never get lost around my house again.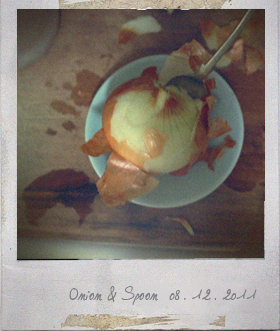 ——————————
— French Onion Soup (serves 4) —
1 tablespoon butter
1 tablespoon olive oil
3 medium size white onions, thinly sliced
1 cloves garlic, minced
1 teaspoon sugar
100ml white wine
1.5 little vegetable stock or beef stock
4 slices French baguette
100g Gruyère cheese, grated
Some fresh thyme for garnish, finely chopped
——————————
Melt the butter with the olive oil in a large saucepan over low heat.
Add the onion and cook, stirring occasionally for about 10 minuets. Stir in the minced garlic and sugar,   keep stirring for 30 minutes.
Add the white wine and stir in the stock and bring to boil. Simmer over low heat for about another 30 minutes. Season with salt and pepper if needed.
Toast the baguette slices.
Ladle the soup into 4 bowls, float a slice of toasted baguette in each bowl and sprinkle the grated cheese on the toast. Grill for 2-3 minutes.
Garnish with finely chopped thyme.