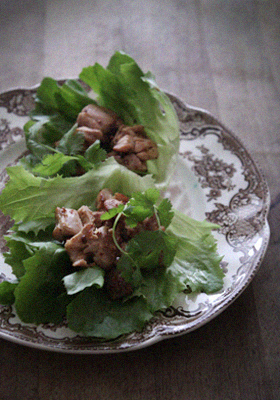 I like 'wrap' dishes. Tortillas, rice papers, crapes… any kind of wraps.
It's easy to eat, fun to eat and looks cute, I think.
This is healthy low-calorie lettuce wraps, nice combination of cold crispy lettuce and warm tender chickens.
Lettuce hugs chickens.
——————————
— Lemon Grass Chicken Lettuce Wraps (serves 2) —
300g chicken thigh, boned and skinned
Some lettuce leaves
Some coriander stalks
Some olive oil for frying
*****
— for the marinade —
1 stalk lemon grass, finely chopped
1 clove garlic, peeled and minced
1 tablespoon olive oil
1/2 tablespoon fish sauce
2 tablespoons lemon juice
1 teaspoon sugar
——————————
Cut the chicken thigh into bite-sized pieces.
Mix all the ingredients of the marinade in a bowl, add the chicken pieces into the bowl and mix well then marinate 30 minutes.
Heat a frying-pan and add some olive oil. Stir-fry the marinaded chicken over medium heat until cooked.
Place the lettuce leaves on a plate, Scoop up a big spoonful of cooked chicken and place it in the middle of a lettuce leaf and garnish with some coriander stalks.