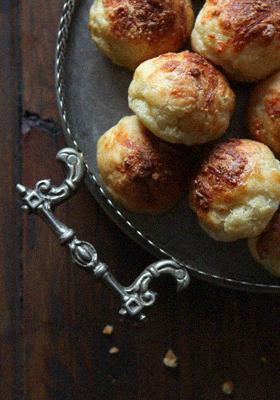 Fluffy puffy cheesy pastries to huffy puffy.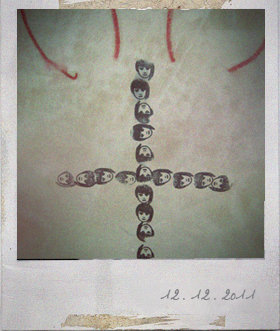 ——————————
— Gougères – Cheese Puffs (makes 24 pastries) —
200g plain flour
1/4 teaspoon of nutmeg
1 pinch of salt
1/2 teaspoon fresh ground black pepper
220ml water
100g butter
4 eggs
100g grated gruyere cheese
——————————
Preheat the oven to 200C/400F.
Combine the flour, nutmeg, salt and black pepper in a bowl.
Place the 220ml water and butter in a large saucepan and bring to the boil. When the butter melt, turn the heat to low and add the flour mixture all at once, stirring vigorously with a wooden spoon until it turns into a smooth paste.
Take the saucepan off the heat and let it cool slightly.
Beat in the eggs one at a time until a smooth and glossy dough forms. Then stir in about 2/3 of the grated cheese.
Using a piping bag or tow teaspoons, heap walnut-sized balls onto a baking sheet. Sprinkle with the rest of cheese on the top of the dough balls.
Bake in the preheated oven for 25-30 minutes until golden brown.