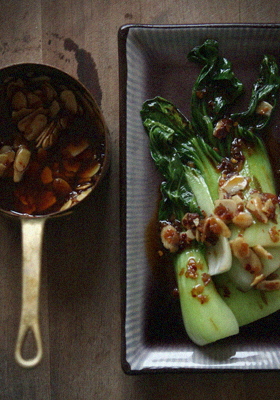 This hot and bold flavoured chilli oil goes great with stir-fried / steamed vegetables, plain rice or plain tofu. It spices up meals.
——————————
— Pak Choi with Almond Garlic Chilli Oil (Serves 4) —
800g pak choi
Some vegetable oil for frying
*****
– for Almond Garlic Chilli Oil –
4 tablespoons sesame oil
2 cloves garlicm, minced
2 tablespoons onion, minced
1 teaspoon chilli flakes
1/2 teaspoon paprika powder
1&1/2 tablespoons light say sauce
1/2 teaspoon sugar
1/4 salt
20g toasted almond flakes
——————————
Place the sesame oil, minced garlic, minced onion, chilli flakes and paprika powder in a small sauce pan. Heat over low heat, stirring occasionally for 10 minutes until the onion and garlic became golden.
Remove from the heat and let it cool slightly. Add the say sauce, sugar, salt and almond flakes and mix well. Set aside.
Cut the very ends off the pak choi and separate the leaves.
Heat some vegetable oil in a large frying-pan or wok, stir fry the pak choi for about 3 minutes until it's lightly cooked.
Transfer the stir fried pak choi to serving plates and drizzle with the almond garlic chilli oil.