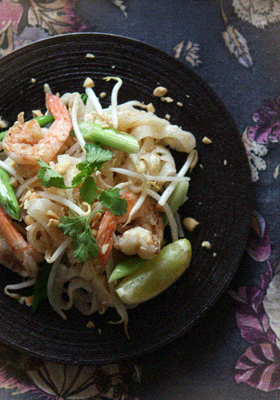 This stir-fried rice noodle dish is called "Pad Thai". One of the national dishes of Thailand.
There are several regional variations, and this is my favourite version of Pad Thai recipe. It has a light, fresh and full of umami taste.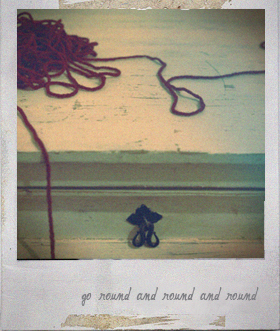 ——————————
— Thai Fried Noodles with Prawns (serves 2) —
180g Thai rice noodles (sen lek)
2 tablespoons lemon juice
2 tablespoons tamarind juice
1 & 1/2 fish sauce
1 tablespoon palm sugar or sugar
2 tablespoons vegetable oil
2 cloves garlic, minced
2 tablespoons finely chopped  shallot
8 raw king or tiger prawns, peeled and de-veined
1 egg
1 tablespoon pickled white radish, chopped into small pieces
1 tablespoon dried shrimps, ground or pounded
1/2 teaspoon chilli powder
2 spring onions, slices
40g fresh bean sprouts
3 tablespoons chopped roasted peanuts
Some chopped coriander for garnish
Lemon wedges for garnish
——————————
Soak the noodles in lukewarm water for about 15 minutes. Drain and rinse under cold water, and drain well again. Set aside.
Mix the lemon juice, tamarind juice, fish sauce and palm sugar in a bowl.
Heat the vegetable oil in a wok or frying-pan, stir-fry the garlic and shallot over medium heat until golden brown. Add the prawns and cook until turn pink. Break in the egg and stir-fry quickly for a couple of seconds.
Add the drained noodles and stir-fry, pour over the sauce mixture, add the pickled white radish, dried shrimps and chilli powder and spring onions. Keep stirring until the noodles a cooked through for 3-4 minutes.
Transfer to serving plates, arrange the fresh bean sprouts over the noodles, sprinkle with chopped peanuts and garnish with chopped coriander and lemon wedges.