This is a nice and warm breakfast on a cold day.
London was covered with snow over the weekend and there were a lot of snowmans in the town. They made me feel nice and warm too.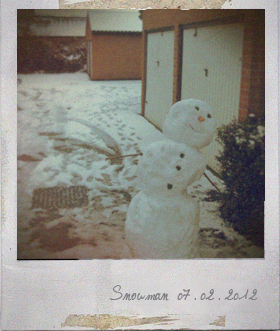 ——————————
— Bacon & Egg Toast Cups (6 cups) —
6 slices white sandwich bread
6 slices bacon
6 small eggs
30g shredded cheese
A pinch of salt and black pepper
Some Olive oil
——————————
Preheat the oven to 400F/ 200C.
Cook bacon strips in a frying-pan over medium heat until almost crisp and drain excess oil on kitchen papers.
Lightly grease 6 muffin cups with olive oil.
Cut out rounds of bread slices about 3.5 inches in diameter with a cookie cutter or a wide-mouthed glass. Press the bread rounds into the muffin cups.
Curl bacon strips into the bread cups.
Sprinkle a small amount of shredded cheese to the edges of bread cups.
Crack eggs and drop into the bread cups, sprinkle with salt and black pepper to taste.
Bake until egg white are just set, about 8-10 minutes.