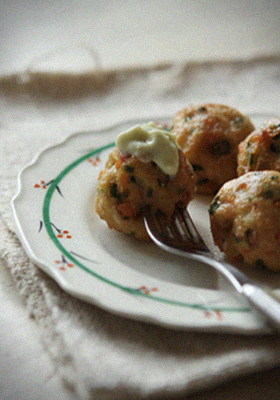 When I was a child, my mum told me 'Eat tofu, if you want to have soft smooth skin like tofu'.
So, that's one of the reason why I keep eating tofu (of course I like the taste too!).
Tofu is made from soya beans, it obviously has many of the nutritional benefits; low-calorie, high protein, rich in vitamin B and cholesterol-free etc. Also it helps further absorption of vitamin E which is a very important vitamin for antioxidant and smooth skin.
This tofu balls have nice fluffy texture and perfect for a snack.
I ate it a lot this afternoon, and wishing my skin is becoming like tofu.
——————————
— Tofu and Vegetable Balls (about 20 balls) —
400g tofu (firm)
50g carrot
50g fine beans
15 stalks chives
3 tablespoons corn flour
1 egg, beaten
1 tablespoon soya sauce
A pinch of salt and pepper
Oil for deep frying
*****
— for the creamy wasabi dip —
1/2 teaspoon wasabi paste
2 tablespoons sour cream
1/2 teaspoon lemon juice
A touch of salt
——————————
Wrap the tofu in a clean tea towel or some layer of kitchen papers, and place a heavy thing (such as a pan) on top of it to force out excess water, then leave it for about 20 minutes.
Put the drained tofu in a bowl and mash. Add the corn flour, beaten egg, soya sauce and a pinch of salt and pepper. Mix them well.
Chop the carrot, fine beans and chives finely and add them into the tofu mixture and mix all together.
Roll the tofu mixture into small balls.
Heat the oil to 170C/340F and deep-fry the tofu balls until golden brown. Drain on kitchen paper.
To make the wasabi dip, place the wasabi paste, sour cream and lemon juice and mix well. adjust the seasoning with a touch of salt.
Serve the tofu balls with the wasabi dip (or any kind of your favourite dip for chips).
§ One Response to Tofu Balls with Creamy Wasabi Dip