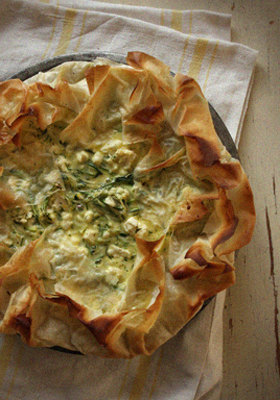 This is a very light and refreshing courgette tart.
It's been raining all day long today, I enjoy staying home and baking.
Nice and relaxing rainy Sunday.
——————————
— Courgette and Feta Tart (8 inch round) —
2 courgettes, shredded
1 teaspoon salt
3 eggs
100ml single cream
2 tablespoons dill, finely chopped
1 tablespoon lemon zest, shredded
A pinch of black pepper
5 sheets filo pastry
2 tablespoons butter, melted
100g feta cheese, crumbled
——————————
Place the shredded courgette in a large bowl, sprinkle the salt and toss to combine. Leave for 30 minutes. Place on a layer of paper towels and squeeze out as much moisture as possible.
Preheat the oven to 340F / 170C.
Brash the 8 inch round baking dish with melted butter, layer with filo sheets (each sheet at a different angle) blushing with melted butter between each layer.
Place the eggs and single cream in a bowl and whisk until well combined. Add the dill, lemon zest, black pepper and squeezed courgette, mix everything together. Pour into the filo case and sprinkle with the crumbled feta cheese.
Gently fold the filo sheet edges to create a rustic-looking open face tart.
Bake for about 40 minutes until just set.
§ 2 Responses to Courgette and Feta Tart"