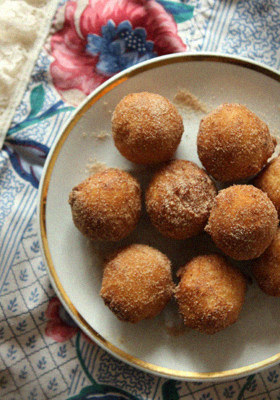 Light, fluffy & healthy tofu doughnut holes.
It only takes about 10 minutes to cook. Super easy and yummy. Suitable for vegans too.
——————————
— Tofu Doughnut Holes —
180g plain flour
40g sugar
2 teaspoons baking powder
A pinch of salt
300g tofu
Vegetable oil for deep frying
*****
— for Cinnamon sugar —
1 & 1/2 tablespoons caster sugar
1 teaspoon ground cinnamon
——————————
Combine the flour, sugar, baking powder and salt in a large bowl.
Mash the tofu in a separate bowl. Add to flour mixture and mix well.
Heat the oil to 340F/ 170C.
Drop the dough by heaping teaspoonful into the oil.
Deep fry until golden brown all around.
Place on kitchen papers to drain the excess oil.
Toss with the cinnamon sugar or powdered sugar.
§ 2 Responses to Tofu Doughnut Holes"