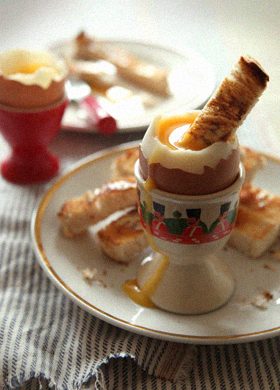 This cute British snack is one of my favourite breakfast.
Simple, adorable and fun to eat. It makes me happy and smiley in the morning.
——————————
— Egg & Soldiers —
eggs
breads
butter
A pinch of salt
——————————
Toast breads and spread butter. Slice into strips.
In a sauce pan, bring some water to the boil. Using a spoon, carefully place the eggs in the pan. Cook them for 4-6 minutes.
Place the boiled eggs into egg cups. Slice off the top of the egg with a knife and sprinkle with a pinch of salt.
Serve with the toast strips.