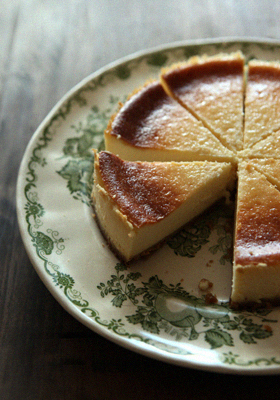 This is a classic New York style cheesecake. Rich, creamy and dense.
Simply delicious.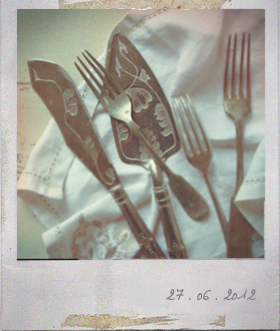 ——————————
— Baked Cheesecake (7 inches round cake tin) —
100g digestive biscuits
50g unsalted butter, melted
300g cream cheese
150g sugar
200ml sour cream
2 eggs
100ml single cream
2 tablespoons corn flour
1 teaspoon lemon zest
3 tablespoons fresh lemon juice
——————————
Crush the biscuits until fine, add the melted butter and mix well to combine.
Spread the biscuit mixture onto the bottom of spring form cake pan, pressing down firmly. Refrigerate the biscuit base while making the filling.
Preheat the oven to 170C/340F.
Beat the cream cheese until smooth in a large bowl, add the sour cram and sugar, mix well. Add eggs 1 at a time, mix well. Add the single cream, lemon zest and lemon juice, mix well, and then add the corn flour and mix.
Pour the mixture through a strainer onto the biscuit base.
Place the cake pan inside a oven dish, pour hot water around the pan (wrap the pan first with aluminum foil to prevent water from leaking through the bottom).
Bake until set and golden on top about 1 hour.
Turn the oven off, and let the cake cool in oven with the door closed for a couple of hours.
Chill in refrigerator, preferably over night.