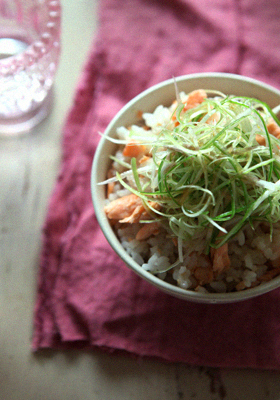 Japanese style salmon rice with lemon and soy sauce flavoured spring onion salad topping. This dish remind me of my hometown and mum's cooking.
I grew up near the river where salmon are born and return. It was amazing to see how they remember the birthplace and swim back hundreds of miles upstream to reach their home.
Home is special for everybody.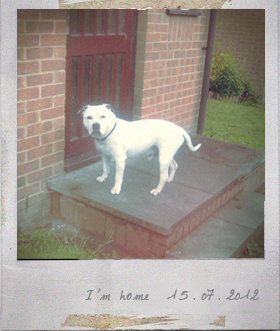 ——————————
— Salmon Rice with Spring Onion Salad (serves 2-3) —
300g rice (Japanese short grain white rice, or sushi rice)
420ml water
1 tablespoon sesame seeds
200g salmon fillets
1/2 teaspoon sea salt
1 teaspoon sake (rice wine)
60g spring onion
1/2 tablespoon fresh lemon juice
1/2 tablespoon light soy sauce
1/2 tablespoon  sesame oil
——————————
Rinse the rice in a clod water, changing the water several times until the water runs almost clear.
Drain the washed rice in a sieve and place in a saucepan.
Pour the water in the pan and cover with tight-fitting lid.
Bring to the boil over high heat and let cook for 2 minute. Reduce the heat to the lowest and simmer (always cover the pan with a lid) 15 minute. Remove from the heat, still covered, and leave the pan for another 10 minutes.
Roast the sesame seeds in a dry frying-pan over medium-low heat until golden. Set aside.
Sprinkle the salmon fillet evenly with the sea salt, cover and refrigerate 15 minutes.
Heat the grill or grill pan over medium heat, skin side down and grill for 3-4 minutes, carefully turn over and grill for another 3-4 minutes.
Break up the grilled salmon into small pieces with a fork. Sprinkle with the sake and mix.
Add the salmon and roasted sesame seeds into the cooked rice and gently mix everything.
Place the fresh lemon juice, light soy sauce and sesame oil in a small bowl and mix well to make dressing.
Cut the spring onion into very thin slivers. Toss with the dressing.
Transfer the salmon rice to bowls. Arrange the spring onion salad on top.