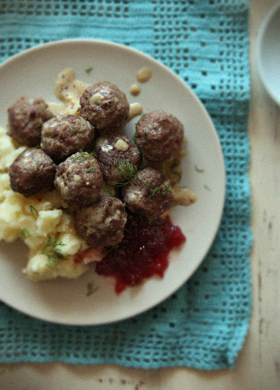 By the way, I'll never step into IKEA on the weekend again . . .
——————————
— Swedish Meatballs (serves 4) —
200g minced beef
200g minced pork
1/4 onion, finely chopped
1 egg, beaten
50ml milk
30g breadcrumbs
1 teaspoon finely chopped fresh dill
2/3 teaspoon salt
A pinch of ground pepper
A pinch of ground nutmeg
Olive oil for frying
Some chopped dill for garnish
Lingonberry or cranberry jam for serving
Mushed potatoes for serving (optional)
*****
— for the sauce —
1 tablespoon butter
1 tablespoon white wine
1 tablespoon plain flour
200ml beef stock
100ml double cream
Salt and pepper
——————————
Heat some olive oil in a frying-pan and saute the finely chopped onion over medium heat until golden brown. Set aside.
Place the minced beef, minced pork, sauteed onion, egg, milk, breadcrumbs, chopped dill, salt, pepper and nutmeg in a bowl and mix well with hands.
Form the mixture into smallish meatballs.
Heat the oil in a frying pan, fry the meatballs over medium heat for 10 to 15 minutes, turning occasionally, until golden brown.
Remove the cooked meatballs from the frying-pan and spoon away excess oil from the frying-pan and then melt the butter, add the flour and stirring until smooth. Add the white wine and bling to the boil, then add the beef stock, double cream and bring to the boil. Turn the heat down to low and continue to stirring until the sauce has thickened. Season with salt and pepper.
Return the meatballs to the frying- pan and coat with the sauce.
Serve with mashed potatoes and lingonberry jam, garnish with some chopped dill.
§ 2 Responses to Swedish Meatballs"