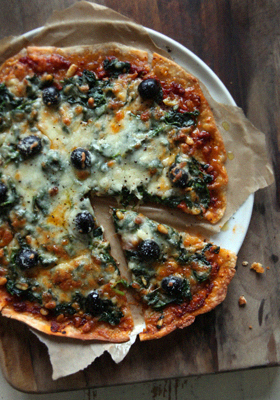 Spinach olive pizza. Popeye and Olive . . .  Help me, Popeye!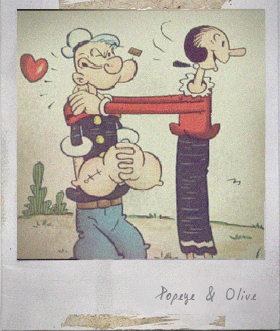 ——————————
— Spinach Olive Pizza (1 x 12 inch round pizza) —
1 x 12 inch pizza base (please see how to make pizza dough. *This recipe makes 2 x 12 inch thin pizza base)
1 tablespoon olive oil
1 garlic clove, crushed
2 tablespoons pine nuts
400g spinach, roughly chopped
1/2 teaspoon salt
A pinch of grated nutmeg
A pinch of black pepper
120g mozzarella cheese, grated
12 small black olives
2 tablespoons grated parmesan cheese
Some black pepper
*****
– for tomato sauce –
2 tablespoons tomato purée
1 clove garlic, minced
1/2 tablespoon olive oil
——————————
Mix all the tomato sauce ingredients together in a small bowl. Set aside.
Heat the olive oil in a frying-pan and fry the crushed garlic and pine nuts over low heat until golden.
Add the spinach and stir-fry over medium heat until wilted. Season with the salt, nutmeg, black pepper.
Preheat the oven to 220C / 425F.
Brush the baking tray with olive oil and lay the round base on the tray.
Spread the tomato sauce onto the base, sprinkle with half the mozzarella. Spread the spinach and black olives over the top, followed by the rest of mozzarella and the parmesan cheese.
Bake for about 15 minutes until topping is golden and the base is crispy.
Sprinkle with some black pepper.