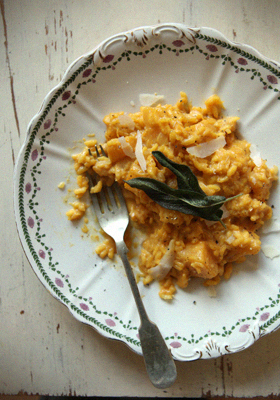 Creamy pumpkin risotto. Dreamy pumpkin head.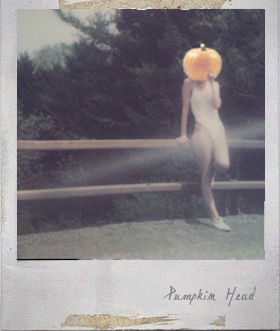 ————————————
— Creamy Pumpkin Risotto (serves 2) —
1 tablespoon butter
4 sage leaves
40g butter
300g pumpkin, peeled and chopped into 1 inch cubes
1 tablespoon olive oil
2 shallots, finely chopped
1 garlic clove, finely chopped
160g risotto rice
100ml white wine
500ml hot chicken stock or vegetable stock
50ml single cream
40g parmesan cheese, grated
Black pepper
Some shaved or grated parmesan cheese for garnish
————————————
Place the 1 tablespoon of butter in a frying-pan and heat over medium heat. Place the fresh sage leaves into the heated butter and cook until crispy (about 30 seconds each side. Don't make them brown). Remove them on a kitchen paper. Set aside.
Melt the 40g butter in a flying-pan over medium heat, add the chopped pumpkin and stir-fry until just tender. Set aside.
Heat the olive oil in a large saucepan, add the chopped shallots and garlic, sauté over medium heat until softened.
Add the risotto rice, stir for 5 minutes until the rice start to turn translucent at the edges.
Add the white wine, cook and stirring until all the wine has been absorbed.
Add the cooked pumpkin and pour in a ladle of chicken stock, stirring continuously. When the stock has been absorbed, stir in another ladleful. Continue adding the stock in this way until all the stock has been absorbed.
Add the single cream, stirring until it has been absorbed. The rice should be al dente. Stir through the grated parmesan cheese.
Transfer the risotto to serving plates, sprinkle with black pepper, garnish with parmesan cheese, top with the sautéed sage leaf.