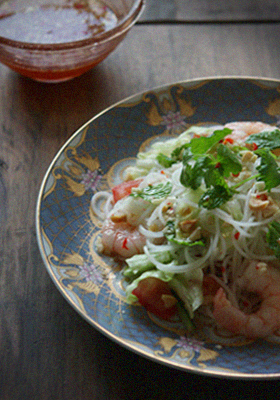 I love this Vietnamese style fresh noodle salad. This is like a delicious medicine.
I'll never get board of this fresh, zesty taste, and it's very healthy with a lot of herbs and vegetables. I can physically feel that my body is delighted when I'm eating it.
The main ingredients of this dressing is Vietnamese fish sauce called nuoc mam. Nouc mam is a fermented fish sauce and it has a pungent smell itself… But when you use nuoc mam for a cooking, it does really enhance flavour of the dish, lifting the taste of other ingredients.
All the ingredients are helping each other to be delicious on a plate.
——————————
— Prawn & Herb Noodle Salad (serves 2 / main dish) —
200g dried thin rice noodles (Bún)
160g boiled prawns
80g iceberg lettuce
100g cucumber
1 tomato
A handful coriander leaves
A handful mint leaves
Some roasted peanuts, crashed
*****
– for the noodle salad dressing –
2 tablespoons nouc mam (vietnamese fish sauce), or usual fish sauce
2 tablespoons fresh lime juice
1 1/2 tablespoon honey
1 clove garlic, peeled and very finely chopped
A pinch of small chili, very finely chopped
——————————
To prepare the noodle dressing, mix all ingredients of the dressing in a small bowl. Set aside.
Tear the iceberg lettuce into pieces, chop the cucumber and tomato into cubes, and set aside.
Cooke the thin rice noodles in a large pot of boiling water until cooked (follow the package directions). Drain and rinse well under cold water, and drain well again.
Transfer the cooked thin rice noodles into a large bowl. Add the boiled prawns, iceberg lettuce, cucumber, tomato, coriander leaves and mint leaves. Pour over the dressing, toss everything together in a bowl.
Dish up the noodle salad and sprinkle on the crushed peanuts.