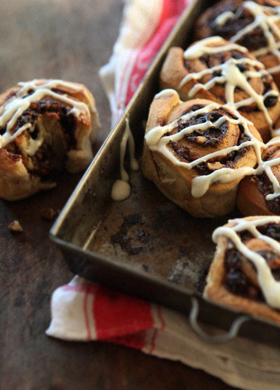 Blue Monday –– Today is the most depressing day of the year, according to British psychologist Cliff Arnall.
Hmm… maybe that's true.
It's always a good idea to make bread when I feel depressed.
Kneading and punching the dough is a stress buster, the smell and taste of fresh and warm bread makes me happy.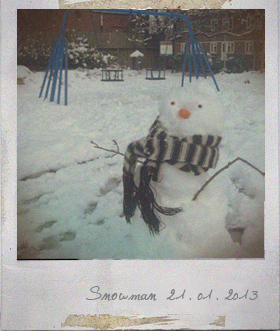 ——————————
— Cinnamon Rolls (makes 12 rolls) —
50g butter
200ml milk
500g strong white flour, plus extra for working
2 tablespoons caster sugar
2 tablespoons brown sugar
2/3 teaspoon salt
7g fast action dried yeast
1 egg, beaten
vegetable oil for greasing
*****
 – for filling –
100g brown sugar
2 tablespoons ground cinnamon
100g butter (softened), plus extra for brushing
70g raisin
50g walnuts, chopped
*****
– for cream cheese topping –
50g cream cheese
80g icing sugar
1 tablespoon butter
1 tablespoon milk
——————————
Place the butter and milk in a small sauce pan over a low heat. Warm until the butter has melted, and let it cool until it's lukewarm.
Place the flour, caster sugar, brown sugar, salt and fast action dried yeast in a large  bowl and stir together. Mix in the milk mixture and the beaten egg.
Knead the dough on a flour surface board for 10 minutes until smooth and elastic. Shape the dough into a ball and place in the oiled bowl, cover the dough with cling film and let rise in a warm place for 1 hour, or until doubled in size.
Transfer the dough onto a flowered surface board and Punch down. Roll out to 30cm x 40cm.
To make the filling, mix the brown sugar and cinnamon. Evenly spread the softened butter onto the dough and sprinkle with the cinnamon sugar mixture, and then the raisin and walnuts. Starting from the long edge, roll up the dough to form a log and slice into 12 pieces.
Place on the lightly oiled baking tray, cover with cling film and allow them to rise for about 45 minutes in a warm place.
Preheat the oven 200C / 400F.
Brash the rolls with a little malted butter and bake for 20 minutes or until golden.
To make the topping, mix all the topping ingredients in a small bowl, mix together until smooth. Drizzle the topping over the rolls.