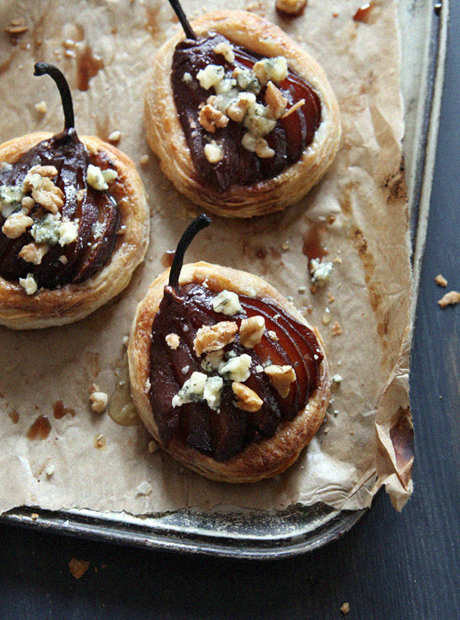 Drunken pears for a drunken night.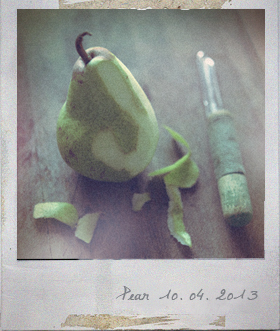 ——————————
— Red Wine Poached Pear Tartlets (makes 8 tartlets) —
4 pears, under-ripe
300ml red wine
250ml water
170g brown sugar
2 whole star anise
1 cinnamon stick
2 wide strips lemon zest
300g ready-made puff pastry
1 tablespoon butter, melted
30g walnuts pieces
30g blue cheese, crumbled
——————————
Peel the pears without removing the stalks. Cut in half and remove the core.
Place the red wine, water, brown sugar, star anise, cinnamon stick and lemon zest in a saucepan. Bring to a boil, stirring occasionally to dissolve the sugar. Reduce the heat to low, add the pear and simmer for about 30 minutes until tender.
Remove the pear from the sauce pan, set aside to cool.
Bring the wine liquid to a boil and simmer gently until syrupy.
Preheat oven to 200C / 400F.
Roll out the pastry on a lightly floured surface and cut out 8 circles (approximately 4 inch dimeter).
Cut the pear into slices, leaving the stalk end intact.
Place the pastry on a baking sheet, arrange the pears in the centre of circles. Brash the rims with melted butter.
Bake for 20-30 minutes until the pastry is risen and golden.
Drizzle with the wine syrup, sprinkle with the walnuts and blue cheese.