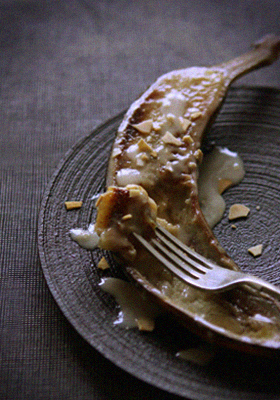 This is a very easy & tasty exotic dessert. It takes less than 10 minutes to make.
The banana skin is not edible, but I like to keep this cute natural banana skin plate for serving.
A little bit of rum add an elegant flavour to this simple dessert.
——————————
— Pan-fried Banana with Coconut Sauce —
2 bananas
150ml coconut milk
1 tablespoon rum
1 tablespoon butter
1 & 1/2 tablespoon sugar
Some almond flakes
——————————
Cut the banana in half lengthwise.
Heat a frying-pan, melt the butter and fry the bananas (cut side down) over medium-high heat about 3 minutes until golden brown on cut side.
Sprinkle the rum over the banana, and then pour the coconut milk, sprinkle the sugar in the frying-pan.
Simmer the banana with the coconut sauce until the sauce has reduced by half.
Sprinkle almond flakes. Serve warm.