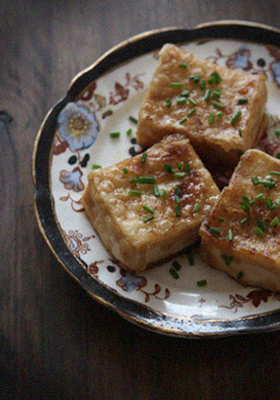 I had a very busy weekend and had strange dreams all night long. Dream brings me to the different world and it's fun even if it was a nightmare but I was exhausted when I woke up this morning and my skin looks tired.
I need to eat a quick and easy nutritious dish for my tired body and skin today. So I decided to cook my favorite healthy ingredients 'tofu'.
This is very easy & tasty tofu steak, and it's suitable for vegetarians too.
——————————
— Teriyaki Tofu Steak (serves 2) —
350g tofu (firm, 1 standard size block)
1 tablespoons vegetable oil
1 tablespoon flour
1 tablespoon corn flour
some chives, finely chopped
*****
— for the teriyaki sauce —
1 & 1/2 tablespoon soya sauce
2 tablespoons rice wine (sake)
1 tablespoon sugar
——————————
Wrap the tofu in a clean tea towel or some layer of kitchen papers, and place a heavy thing (such as a pan) on top of it to force out excess water, then leave it for about 10-15 minutes.
Mix all the teriyaki sauce ingredients in a small bowl and set aside.
Cut the drained tofu block into 4-6 thin blocks.
Mix the flour and the corn flour, and then coat the tofu blocks.
Heat the oil in a frying-pan and fry the flour-coated tofu over medium heat on each side until golden.
Add the teriyaki sauce in the frying-pan and shaking the frying-pan gently and cook both side until the sauce has thickened.
Garnish with the finely chopped chives.