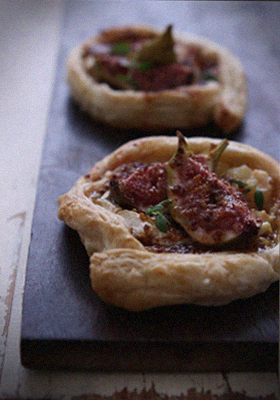 Fig is written "無花果" in Japanese which means "fruit without flower", so I believed that figs have no flowers.
I was delighted when I found out that the figs are actually flowers, inside-out flowers, and an interesting story about 'fig wasp' for pollination.
The nature world is amazing and the combinations of figs and honey are amazing too. Thanks wasps and bees, they are hard workers.
——————————
— Fig and Camembert Tarts (4 tarts) —
200g puff pastry
2 figs
60g camembert cheese
1 tablespoon whole-grain mustard
1 table spoon honey
Some fresh thyme leaves
——————————
Roll the puff pastry on a light floured work surface into a sheet. Cut out 4 round bases (approximately 2.5 inch diameter) and make a small rim with the remaining pastry.
Place the pastry bases on a baking paper.
Cut the camembert cheese into 4 pieces and place on the pastry.
Cut the figs into quarters, and arrange them on the camembert cheese.
Mix the mustard and the honey in a small bowl and drizzle over the figs.
Bake the tarts in a preheated 200C/400F oven for 20-25 minutes until the pastry in crisp and golden.
Garnish with some thyme leaves.