Light up Japan recipe –No.6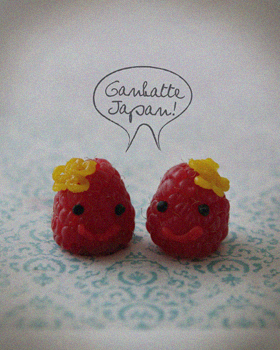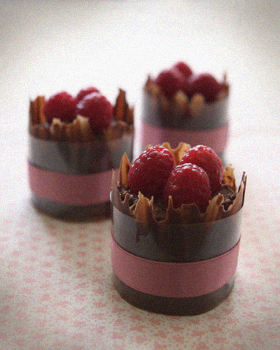 Chocolate can boost your mood and makes you happy.
This is a sweet little treat for the weekend.
——————————
— Chocolate Mousse (6 cups) —
200g dark chocolate, broken into pieces
25g unsalted butter
3 tablespoons dark rum
120ml double cream
3 egg whites
1 tablespoon caster sugar
*****
60g dark chocolate (for decoration)
18 raspberries (for decoration)
——————————
— Chocolate cups —
Cut out baking paper 12 inch x 2 inch, 6 strips.
Roll up one strip of the paper and place inside a 2&1/2 inch pastry cutter. Open out the paper and lines the cutter.
Set a bowl on top of hot water and melt the 60g chocolate, leave the melted chocolate until a little bit harder.
Holding the cutter with one hand, spoon the chocolate and put into the cutter, brush the chocolate up the side of the paper to make the top of cup irregular edge.
Carefully lift away the cutter and repeat to make 6 cups. Chill until set and peel the baking paper.
*****
— Chocolate Mousse —
Set a bowl on top of hot water and melt the chocolate, then stir in the butter until melted and add the rum. Stir gently until smooth.
Whip the double cream in a bowl.
Whisk the egg whites in a separate bowl until peaking, and whisk in the sugar.
Fold the cream, then egg whites into melted chocolate mixture until evenly combined.
Pour the mousse into the chocolate cups and refrigerate for at least 3 hours.
Topping some raspberries.