Light up Japan recipe –No.9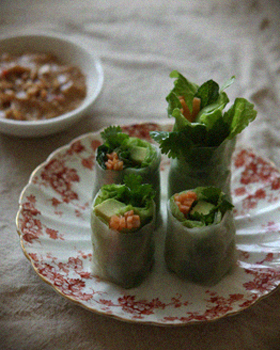 Spring has come and it's a good idea to eat fresh Spring rolls and be refresh and enjoy Spring.
This is a great way to eat a lot of vegetables and herbs.
The creamy rich peanut dipping sauce is my favourite and I can eat too many spring rolls with it.
Suitable for vegans too.
——————————
— Salad Spring Rolls with Peanut Sauce (makes 6 rolls) —
6 medium size sheets dried rice paper
6 leaves lettuce
1 avocado
1 carrot
Handful of coriander leaves
Handful of mint leaves
*****
— For the peanut sauce —
2 tablespoons peanut butter
2/3 tablespoon miso paste
1/2 tablespoon honey
3 tablespoons soya milk
1/2 vegetable oil
1 clove garlic, finely chopped
1/2 small chili, finely chopped
2 tablespoons roasted peanuts, chopped (for garnish)
——————————
— Peanut sauce —
Heat the oil in a saucepan and lightly cook the garlic and chili.
Add the peanut butter, miso paste, honey and soya milk and mix together thoroughly, cook over low heat for 3 minutes. Sprinkle the chopped peanuts.
*****
— Salad Spring Rolls —
Tear the lettuce leaves into large pieces, cut the carrot into thin strips, cut the avocado into wedges.
Fill a large bowl with hot water, dip one wrapper into the hot water for 3 seconds to soften and flexible.
Lay the wrapper flat, place some coriander and mint leaves in a line about 1 inch from the edge of the wrapper, add some thin stripped carrot, avocado wedges, and lettuce leaves, then tightly roll the wrapper. Cut the rolls into quarters. Repeat with all the sheets.