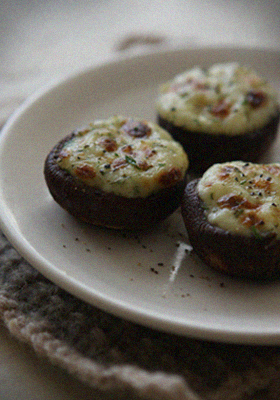 Shiitake mushrooms have a delicious rich flavour and remarkably rich in antioxidants.
This mushrooms help cleanse the blood, and are useful in the treatment of arteriosclerosis and high blood pressure, also they reduce cholesterol and strengthen the immune system. It's understandable why they have been used in Chinese medicine for over 6000 years.
This is an easy healthy snack recipe. Enjoy full flavour of shiitake mushrooms and the full health benefits.
——————————
— Cheese-stuffed Shiitake Mushrooms (serves 2) —
8 shiitake mushrooms
1/2 teaspoon dill, finely chopped
2 tablespoons cheddar cheese, grated
1 tablespoon mayonnaise
Some black pepper
——————————
Remove the shiitake mushroom steams.
Mix the finely chopped dill, the cheddar cheese, the mayonnaise in a small bowl.
Upside down the mushrooms and put the cheese mixture onto the mushroom caps.
Grill under a medium heat about 5 minutes until the cheese is bubbling and melted.
Sprinkle with some black pepper and serve.